The concept of the Digital Twin has already been adopted in many industries. In industrial environments, it has been established as a way to monitor complex systems and devices. Companies and manufacturers collect a broad set of data to optimise performance and use predictive analytics to increase the reliability of their products and reduce the total cost of ownership.
One of the most impressive use-cases is how Rolls Royce uses sensors and the Internet of Things to collect data from aircraft engines to monitor health and predict maintenance needs. Digital twins are also changing how Boeing designs aeroplanes and delivered significant improvements to their development processes.
The digital twin is the "digital representation of a physical item", connecting parts or products to enterprise systems and consumers. Many successful stories have in common that different companies across the value chain cooperate: Airbus as the manufacturer of the aircraft, Rolls Royce as the manufacturer of the engine and the airlines as the operator of the plane for example.
Apparel retail has been leading in deploying RFID, creating billions of unique identities for individual items over the last years. Convenience stores and the food services industry are exploring different ways to optimise store operations, customer service and product availability while reducing waste.
Unfortunately, over the years, most retailers and brand owners have taken an approach where they created data silos, missing the opportunity to leverage information across the value chain, across entities and trading partners to improve their joint ability to compete. It is not surprising that for many years vertically integrated operations outperformed as these formats can leverage data and insights across multiple steps of the value chain. Vertically integrated retailers like Inditex review sales data daily to optimise design and production schedules and ensure to meet customer demand and expectations.
Digital twin – foundation for business intelligence and analytics
Attributes of the physical item are elements such as its identity, location, and authenticity. The digital representation of the item can have many diverse attributes including information such as the history and ownership of the item. An integrated end-to-end approach includes information collected at all stages of the items journey through the value chain, providing reverse traceability and comprehensive insights offering a multitude of analytical opportunities for manufacturers, distributors, and retailers.
A comprehensive implementation of a Digital Twin provides the right foundation to apply machine learning to optimise raw material flow, production schedules, stock allocation and pricing strategies. Predictions about future consumption patterns and stock levels can reduce the need for rush orders, wastage, or lost sales.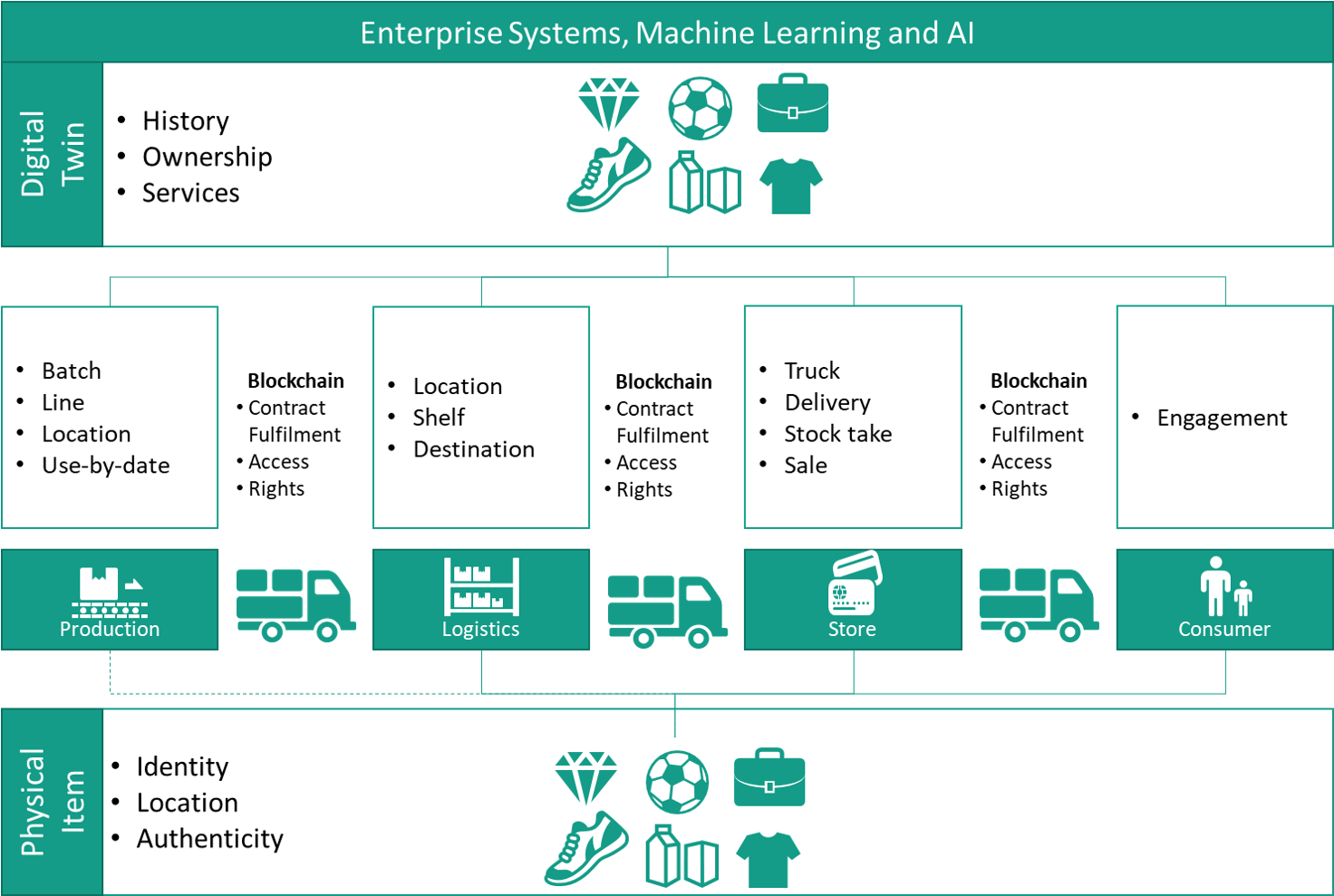 Development of flexible and agile supply chains to meet customer demand
Bain & Company together with AliResearch published an interesting article about China's New Retail. Online, offline and logistics have merged into an integrated value chain where customers seamless engage with retailers across physical locations, online as well as applications such as WeChat. At CES2019 a representative of JD.com mentioned that consumers in China are no longer accepting next day deliveries, the expectation now is for deliveries to arrive within an hour.
To enable this expectation retailers and manufacturers need a different approach. A key element of new retail is the reverse integration of the supply chain. Moving from a disconnected, sequential approach of trading partners to an integrated, flexible approach where forecasting, production and sales are tightly coupled. Analytics and predictive capabilities are deployed to ensure the right product is available at the right place and time.
Consumer engagement and experience
Most retailers and brand owners understand they have to improve the consumer experience and engage customers to create loyalty and develop brand advocates. Product availability and customer service are two core requirements to deliver better shopping experiences. Delivering on these basics is no longer anything customers will positively recognise, it is merely meeting an expectation in a highly competitive environment.
The Digital Twin enables access to a multitude of post sales services and new ways to engage cutomers. Brand owners as well as retailers are just starting to discover some of these opportunities.
Read more about this in my blog post Digital Transformation and the Experience Economy.